Jun99
archive > Log > Log1999
Hong Kong
Hong Kong International Airport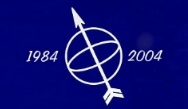 Eight members of NI HK Branch attended at the Hong Kong International Airport, Chek Lap Kok, on the morning of 13 March 1999 for guided tours of the passenger baggage handling facility and HACTL Super Terminal One.
The system was constructed by a consortium of three companies: Swire Engineering Services, Siemens, and Van der Lande.
We were first shown how incoming baggage, stowed in unit load devices (ULDs), the tractors with trailers, are towed down one of four ramps into the basement level of the passenger terminal, and unloaded to he distributed to the allocated carousel. The airport performance objective is to deliver incoming baggage to the relevant carousel in the arrival hall within 12 and no later than 37 minutes after the aircraft's arrival. The two systems of arriving baggage and departing baggage are kept totally separate despite being in the same area.
We were then taken to the system control room, one wall of which is a live video screen showing a schematic of the complete baggage handling system. The video wall, which is effectively a mimic screen, shows the complete activities, performance and status of the system. It can immediately identify any faults in the system and shows where baggage may be backing up. Video cameras are also placed at strategic points around the system to monitor the system. Whilst there one of the collectors was stopped by a suitcase strap snagging on the equipment. This was identified quickly and rectified. Plastic trays are provided for problem bags to prevent such incidents.
Cheek-in baggage is received at all airport counters on level 7, being distributed by a collector line to north and south delivery lines on level 3. Baggage checked in at Central and Kowloon stations, which is brought by the Airport Express train, enters the system at level three. Baggage in transit also enters the system at level 3 but at a separate system on the southern 'Y' end of the airport complex. All departing baggage passes a full security cheek and there is a requirement for all transit baggage to be security checked. Any baggage failing the security level 2 cheek is passed to the main baggage handling area for further checking.
On level 3, bags pass through a primary sorter, consisting of a 360' scanner array, which identifies the bag's flight number from the bar code on the luggage label. Bags, carried on individual wooden trays of the intersorter line, move at a speed of 1.75 metres per second. These tip the bags on to the relevant lateral feeder as they pass, having previously passed through one of four automated explosive detection system (MAEDS) machines which detect explosive material by its atomic density. This is the first level security cheek.
Bags cleared at this security level are sent via secondary sorters to flight make up laterals. All switching between lines is automatic. At the flight make-up laterals, bags are manually scanned, identified, and packed into ULDs by ramp handlers.
Bags failing the first level of security are passed through an x-ray machine and visually inspected by employees of AVSECO security. Suspicious bags are then put through a third level of security, which consists of a more sophisticated x-ray and cat-scan machine. The owner of any bag that remains suspicious is then asked to open it and reconcile the security staff's doubts (4th level). Any baggage that cannot clear security in this manner passes to level 5 security, being taken to a remote part of the airport and dealt with by the government's ordinance department, ie, blown up!
As suspicious bags are cleared at various levels of security they are returned to the secondary sorters and passed on to the flight make up laterals for loading into a ULD and on to the plane. Bags checked in early, before a flight lateral has been allocated, are retained on time driven early bag store laterals from which they are returned to the primary sorters when necessary. The bag store laterals have a capacity of 4,000 bags.
Late cheek-in bags, once cleared by security, may be sent direct to a special lateral and delivered individually to the aircraft's doorside.
Some departing and transit bags may not be identified as their labels are damaged or missing, and these bags are routed to the latent problem area. Here, damaged labels are checked and replaced manually, while every effort is made to identify unlabelled bags by other means.
Our thanks to MrJoe Hazledon of Swire Engineering Services, operators of the system, for showing us around and answering the many questions from the participants. Perhaps the visit was enjoyed by all concerned as they were reassured that their bags were being well looked after!
Contributed by Rhod McNeill MNI, Mike Wall, Companion
Seaways June 1999